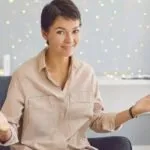 Life Coach vs Therapist: What You Need to Know
Hypnobirthing Classes Help Mother and Child
Menopause insomnia is a sleep disorder that affects many women who are going through menopause. During the menopausal transition, women may have difficulty falling asleep and staying asleep throughout the night.
This sleep disruption can have significant consequences for mental health and physical well-being, leaving sufferers exhausted during the day and unable to focus on tasks or activities.
This post dives into menopause and the many ways to mitigate insomnia. From better foods, lifestyle habits and hypnotherapy, we will cover all you need to improve your sleep.
What is Insomnia?
Insomnia is a sleep disorder that can make it difficult to fall asleep, stay asleep, or both. People who have insomnia often experience waking up frequently throughout the night and feeling unrested in the morning. Insomnia can range from mild to severe and can be short-term (acute) or chronic.
Insomnia problems are more likely among people with certain medical conditions and mental health disorders such as depression and anxiety. It is also common among people with stressful lifestyles due to work or other commitments. In addition, other sleep problems such as sleep apnea, night terrors, sleepwalking, and restless leg syndrome can contribute to insomnia symptoms.
Finally, women with menopausal symptoms can suffer from sleep disorders.
What is Menopause?
Menopause is a natural part of aging in which the ovaries stop producing estrogen and progesterone, leading to irregular periods and eventually no periods. The cessation of menstrual periods typically occurs in women between the ages of 45 and 55.
Hot flashes, night sweats, mood swings, weight gain, vaginal dryness, depression and sleep disorders can accompany menopause.
Hot flashes are one of the most common symptoms associated with menopause, occurring in up to 75% of women during this period. Hot flashes are sudden feelings of warmth that spread throughout the body and can cause heavy sweating, rapid heartbeat, dizziness or lightheadedness.
Night sweats are similar to hot flashes but occur at night instead of waking hours and can cause drenching perspiration. In addition, estrogen levels decline near menopause; therefore, many treatments focus on replacing hormonal levels through hormone therapy.
How Do Night Sweats Impact Sleep Quality?
Night sweats, the equivalent of hot flashes at night, are a common symptom experienced by women during menopause. These symptoms can make it challenging to get enough quality sleep every night because they cause disturbances in temperature control. Women may feel overly hot or cold.
The Role of Hormone Changes in Sleep Disorders
Our lifestyle habits and sleeping patterns play a role in producing hormones, such as cortisol, which regulates sleep. When daily practices lead to disruption in sleeping and eating habits, hormone levels can fluctuate, affecting our overall well-being.
Conversely, the change in hormones can lead to changes in lifestyle habits. Progesterone, for example, induces sleep. As progesterone levels decrease, menopausal women may find falling and staying asleep more difficult.
Medication Side Effects
Hormone replacement therapy is a commonly used treatment for hormone imbalance. It can have some beneficial effects. But, unfortunately, it can have side effects, including difficulty sleeping. In addition, estrogen and progesterone levels naturally fluctuate throughout the day, and hormone replacement therapy (HRT) can disrupt those natural fluctuations.
HRT can interfere with restful sleeping patterns, leading to restless sleep and an inability to get a good night's sleep. It is vital to talk to your doctor if hormone replacement therapy is causing these sleep disorders. Additional treatments, such as hypnotherapy programs, might help you enjoy more restful nights.
Other Causes for Sleep Problems
In addition to the body's natural hormone fluctuations, jet lag, shift work, mental health issues, narcolepsy, and obstructive sleep apnea (OSA) can make for a poor night. We will focus on the most prevalent factors in women undergoing that transition.
Mental Health Disorder
Mental health disorders, such as depression and anxiety, can significantly impact sleep. Unfortunately, menopausal women can experience anxiety and depression, leading to insomnia, difficulty falling asleep, excessive daytime sleepiness, or other disturbances in the normal sleep-wake cycle.
Stress
Stress and sleep issues often go hand in hand. Stress also affects the body's natural clock, making it harder for people to fall asleep or stay asleep.
Lifestyle choices, Eating and Drinking Habits.
Unhealthy lifestyle habits like late-night snacking or excessive caffeine intake may contribute to sleep disturbance. Ensure you maintain a healthy diet and limit caffeine intake before bed.
Additionally, keeping a regular sleep schedule and avoiding screens or electronics in the hours leading up to bedtime can help you get better rest.
The Negative Impact of Sleep Disturbances
Sleep issues can majorly impact a person's health and well-being. They can lead to increased stress, anxiety, depression, irritability, fatigue, difficulty concentrating and decreased reaction time. These effects are further compounded by the fact that lack of sleep can also interfere with alertness and performance in many aspects of daily life.
Poor sleep has been linked to numerous health complications, such as obesity, diabetes, heart disease and stroke. Additionally, sleep issues can contribute to a greater risk of accidents and injury due to decreased reaction time.
Furthermore, chronic sleep disturbances can significantly decrease physical and mental functioning, decreasing productivity at work or school. Regular disruptions can also lead to relationship problems and reduced quality of life.
Therefore, people must ensure they get adequate restful sleep each night to maintain good health, well-being, and productivity.
Can Menopause Cause Severe Insomnia?
One of the most common menopausal symptoms is insomnia, ranging from mild to severe. Hormonal changes during menopause are thought to be the leading direct cause of menopausal insomnia. But the menopause symptoms also exacerbate sleep difficulties.
As estrogen levels decrease, it can affect the body's internal clock and disrupt its ability to regulate sleep patterns. In addition, menopause-related hot flashes and night sweats can contribute to sleep disturbances.
What is Insomnia Like for Menopausal Women?
It is common for menopausal women to experience trouble falling asleep or staying asleep during the night. As a result, they may experience more tiredness throughout the day, increased irritability, and difficulty concentrating. In some cases, sleep issues may be so severe that it interferes with daily activities and quality of life. If you're having trouble sleeping during menopause, it's essential to seek help now.
How Long Does Menopause-Related Insomnia Last?
The length of menopause-related insomnia can vary from woman to woman. Some women report sleeping for only a few weeks, while others experience persistent difficulty sleeping throughout their menopause transition.
In general, trouble sleeping and poor sleep quality associated with menopause are likely to last until hormone levels become stable again and other menopausal symptoms subside.
For some women, trouble sleeping can last for years and may require more than just lifestyle changes to be addressed.
Insomnia Treatments for Menopausal Women
Fortunately, several insomnia treatments can help menopausal women get the restful sleep they need. In addition to medication and cognitive behavioural therapy, good lifestyle habits and hypnotherapy can make a great difference in your life.
Create a Friendly Sleep Environment
How can you enjoy a restful night's sleep? Establishing a bedtime routine is a great way to help your body recognize bedtime.
Power down electronics and dim the lights an hour before bedtime to promote relaxation.
Keep your bedroom comfortable, around 65–72F, as cool rooms tend to make for better sleep.
Turn off any distracting noises and ensure your bed is comfortable with fresh bedding so you can drift off to sleep more easily.
Practice Relaxation Technique
Additionally, using essential oils like lavender, chamomile or bergamot as they are known to help with relaxation. Exercise during the day can release endorphins which can help your body relax. Finally, consider taking magnesium supplements before bed to relax your muscles!
Let Go of Bad Habits
When it comes to getting restful sleep, let go of any bad habits you may have. This new mindset could mean anything from avoiding caffeine late in the day to doing away with screens an hour before bedtime. Not only can these disrupt your circadian rhythm, but they can also act as stimulants and hinder the body's natural desire for restorative sleep.
If you need a little help getting into a better sleep routine, consider keeping a journal and tracking your activities. This can help you spot unhealthy habits that may contribute to your restless nights and make positive changes for improved quality of sleep overall.
Enjoy Better Foods for Your Sleep
Finally, your sleep depends on the foods you eat. Women going through menopause should focus on eating plenty of fruits, vegetables and whole grains. Adding such ingredients to your diet will help provide the vitamins and minerals your body needs to stay healthy.
It is also essential to avoid processed foods that contain added sugars and saturated fat. Incorporating healthy proteins into your diet can also help ease the symptoms of menopause. Include lean meats, fish, eggs and legumes to get adequate protein.
Additionally, it is vital to stay hydrated to reduce hot flashes by drinking plenty of water throughout the day. Some women have soy products because of its estrogen content. Please note that soy-based foods might not be for everyone.
Finally, women must avoid spicy food or caffeine as they may trigger hot flashes.
Enlist the help of your Subconscious Mind with Hypnotherapy!
Hypnotherapy has many benefits, including learning to let go of bad habits and improving your quality of sleep. Hypnosis is a powerful therapy that utilizes the subconscious mind—the part of our mind responsible for behaviors, habits, and emotional responses. Through hypnotherapy sessions, you can learn to let go of bad habits and replace them with healthier, more constructive behaviors. You can also learn to let go of stress or anxiety, reset your sleeping patterns and create positive changes in your life.
Does Insomnia Go Away During Menopause?
The short answer is yes, menopause-related insomnia does go away. It may be a difficult phase for menopausal women to navigate, but with the right strategies, it is possible to achieve better sleep.
Menopause-related insomnia can have different causes, such as night sweats, anxiety and depression. To reduce insomnia, it is essential to address these underlying issues. With hypnotherapy, you can reduce hot flashes and night sweats. And you can alleviate anxiety and depression.
What Is the Best Sleep Aid for Menopause?
The reasons why menopause causes insomnia are diverse. But insomnia is a sleep disorder affecting millions worldwide, not just women during and after menopause. Therefore, if you are dealing with insomnia related to menopause, it is essential to take steps to improve your sleep habits. These steps have helped millions of people, and as a result, they could help you too. Typical advice includes:
Reducing stress
Avoiding caffeine late in the day
Exercising regularly, and
Staying away from screens before bedtime.
However, if these lifestyle changes do not work, sleep aids may provide the support you need and help with menopause-related insomnia. However, the best sleep aid for menopause will vary depending on individual needs and preferences. Some popular aids to put you to sleep include over-the-counter melatonin supplements and sleep-promoting herbal teas.
Supporting Women at Renewed Edge
The question of how to deal with menopause insomnia is front and centre of many women's lives. At Renewed Edge Counselling Hypnotherapy, we specialize in providing therapeutic support to women before, during and after the menopausal transition. Hypnotherapy can help you manage menopause and its symptoms. For more health information, sign up for our newsletter! In the meantime, contact us today and book a session with our hypnotherapist.